WECOME to The BEGIN AGAIN SHOPPE. We would like to tell you about our resale-consignment business and encourage you to join the over 12,000 people already working with us as consignors and the many thousands of others who are faithful customers. This venture is an experience in good stewardship for everyone because as a consignor you earn money and as a customer you are able to save money. So, if you are interested in knowing more about The BEGIN AGAIN SHOPPE, and would like to consider becoming a Consignor, then read on. All the information you will need to know follows:
What is a Consignor and what is a Consignment Business? 
At BEGIN AGAIN, we are a consignment business. This means we do not purchase items from you directly. Instead, we establish an account for you as a Consignor. You will be given an account number which will be used to identify each item you consign with us. You are paid a percentage of the sale price when your item(s) sell. 
Becoming a Consignor 
1.) Call (423) 581-1142 to set up an appointment to become a NEW Consignor at The Begin Again Shoppe.
2.) Our staff will give you guidelines to follow in preparing your merchandise to consign.
3.) During your appointment, our staff will explain your agreement and review your clothing items. We will establish an account and your merchandise will be tagged with your personal account number. Items not selected for resale will be returned to you or you may wish to use our donate source for items we are unable to retain.
4.) Accepted items are tagged with your consignment number and are available for sale through the end of the established consignment period, per item. After initially establishing an account, in the future all you will need to do is bring in your consignments, give us your consignment number, and wait for our staff to review what you bring in. If you would like to keep any items we are unable to consign they will be returned to you at that time. If as an established Consignor you prefer to "drop and run" we have a donation source that receives items we can not accept for consignment.
What Can I Consign?  
We are pleased to accept a large range of outstanding merchandise. We consign men's, women's, and children's clothing. All clothing must be in current style, clean, odor free, pressed and on hangers. For processing purposes, we ask you limit your clothing items to no more than 50 items per visit.
Miscellaneous items such as shoes, purses, belts, and a wide range of household and home decor items which may include furnishings are always popular with our customers. Please place miscellaneous merchandise in boxes of manageable size when bringing items in for consignment. We are unable to review miscellaneous items. Thus, we must ask your approval to donate any item deemed unacceptable for resale. Consigners are welcome to bring in up to six (6) boxes of miscellaneous merchandise at one time. The original purchase price of a consigned item should exceed $5.00 in retail value. 
Consignment Hours: 
Drop & Donation Only  
      Monday, Wednesday, Thursday, Friday, and Saturday:  10am - 5pm
      (No consignments accepted on Tuesdays.) 
      New consignors by appointment please.  
Review Clothing (upon request)  
      Monday, Wednesday, Thursday, and Friday:  10am - 4pm 
      (No consignment reviews on Tuesdays.)
The consignment entrance is on the west side of our building under the canopy. Ring the doorbell and our staff will gladly receive you and your consignments.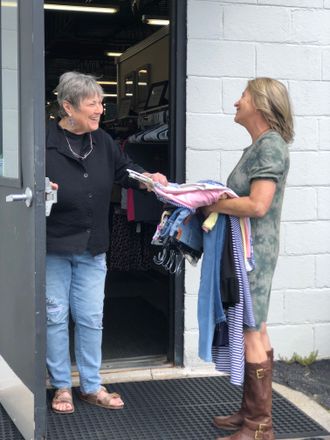 Consignor's Payment  
When your consignments sell, you the Consignor receive 40% of the selling price. Checks are available on or after the 10th of each month for pickup. Also, you may redeem your payment in "store credit," which will automatically give you a 10% discount on your purchase. All merchandise is given a 90-day selling period. After 90 days, all unsold merchandise becomes the property of The Begin Again Shoppe.